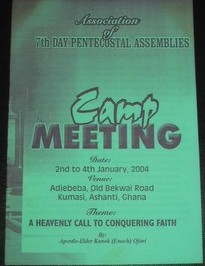 "Contend for the faith which was once delivered unto the saints" (Jude 1:3).
This faith is a "most holy faith" (verse 20). It grows out of grace but values righteousness and holiness. (Titus 2:11-12).
A Heavenly Call To Conquering Faith defines the core characteristics of "the faith once delivered unto the saints" and places obedience at the centre of it, not on the periphery. It thunders against the misapplication of the grace of God to justify lawlessness which, in fact, goes against the very noble objectives of the saving grace of God!
A copy will offer you an insight into the conquering faith of the ancient saints whose example we must follow. Send a request now!