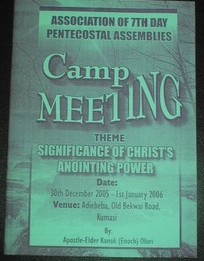 When was man first anointed by God? If you answered 'on the day of Pentecost', you would be dead wrong!
Significance of Christ's Anointing Power traces God's anointing power on man to the earliest history of mankind—right to Eden! (Psalm 8:5-6; Gen. 2:7).
And it continues today as the mainspring of our spiritual relationship with Christ—by which we not only have meaningful spiritual communion with Him, but also receive power to heal the sick, set the oppressed free, and undo the works of the devil. (Rom. 8:9; 1 Cor. 6:17; Luke 10:19; 2 Cor. 10:3-5).
Not to be covered with Divine covering is to be spiritually naked, cut off from God; 'a living dead'. (Rev. 3:17; 16:15; 1 Tim. 5:6).
That's settled. But the booklet goes a step further. The anointing is not irreversible, for the Holy Spirit can be grieved—and lost as happened to Adam and Eve when they fell into transgression. (Eph. 4:30). Thus the booklet devotes a few pages to teaching the holy Christian life pleasing to God.
Request your free copy today! It's a must for all believers zealous of keeping the fire burning!