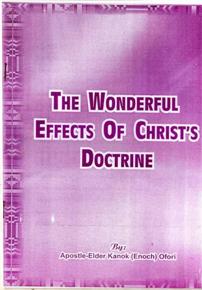 "And they continued steadfastly in the apostles' doctrine and fellowship, and in breaking of bread, and in prayers.
"And fear came upon every soul: and many wonders and signs were done by the apostles" (Acts 2:42-43).
The above-quoted scripture establishes a direct correlation between "the apostles' doctrine" and the "many wonders and signs" done by them.
What is this doctrine and how can you practice it to be a wonderful Christian and a miracle performer like the early apostles?
Get the straight-forward answer in The Wonderful Effects of Christ's Doctrine written by the late Apostle Enoch Ofori and published posthumously. It's a golden opportunity to get into the spiritual 'toolkit' of the early Church. Send your request today!