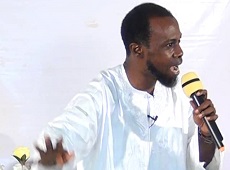 Elder Enoch Ofori Jnr was trained in theology by the late Apostle Enoch Ofori, his father, whose mantle he assumed after his death in October 2007.
A writer and keen Bible scholar, Elder Ofori Jnr has written a number of booklets and articles (both offline and online) for the Christian reading public. In all his writings, Elder Ofori has been led to unearth gems of God's truth that bring illumination and joy to readers through an incisive and in-depth analysis of God's living word.
Like his father, Elder Ofori Jnr believes in practical Christianity—Christianity whose teachings are Proven Provable Truths. Truths that prove themselves because they come from God and they are Living and Powerful, not mere theories and dead dogmas!
Enoch Ofori Jnr currently pastors a local 7th day Pentecostal Assembly in Kumasi. He runs a thriving ministry that has seen and continues to see many saved, healed and delivered. His ministry is a Divine powerhouse where Jesus actively engages with people of all backgrounds and ministers to their needs.
Pastor Ofori Jnr provides leadership for Enoch International Evangelism, which is solely dedicated to Christian education and soul-winning. The ministry is his passion.