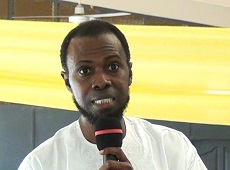 By: Elder Enoch Ofori Jnr
Golden Text:
"Wherefore seeing that we also are compassed about with so great a cloud of witness, let us lay aside every weight, and the sin which doth so easily beset us, and let us run with patience the race that is set before us,
"Looking unto Jesus the author and finisher of our faith; Who for the joy that was set before Him endured the cross, despising the shame, and is set down at the right hand of the throne of God" (Heb. 12:1-2).
In saint Paul's letter to the Colossians, we read a cryptic but profound statement: "Ye are dead, and your life is hid with Christ in God" (Col. 3:3).
What a kind of life we have! We are dead, and yet we are alive in Christ!
In one of His most penetrating pre-departure messages, Christ told His disciples: "I will not leave you comfortless: "I will come to you.  …. because I live, ye shall live also" (John 14:18-19).
Christ is our Life (Col. 3:4). We live because He lives (1 John 4:9). The Christian life is inextricably bound with Christ's, with all the holiness and privileges it entails. His life has become so completely ours that "as He is" in heaven, presently seated on the right hand of Power, "so are we in this world" (1 John 4:17; Matt. 26:64).
We are "complete in Him, which is the head of all principality and power" (Col. 2:10). In Christ we have fullness of life—a life anchored to His in heaven! Christ is the true Vine in Whom we abide (John 15:1-5).
New Life, New Position in Christ
As soon as we repent of our sins and believe in Christ, we exit the old life we lived under Satan and assume a new life in Christ which is His very LIFE! (see Acts 26:18; Col. 1:12-13; Eph. 4:22-24; Gal. 3:27; 2 Cor. 5:17).
With this move comes a change in our position before God: We henceforth cease as sinners under the condemnation of His law; we become His dear children (Col. 1:21-22; Rom. 5:9-10; Eph. 2:19; John 1:12-13).
At the same time, our place in Satan's kingdom also changes: We cease as his victims and stooges held captive to his will. He comes under us (Heb. 2:14-15; 2 Tim. 2:25-26; 1 John 2:14, 4:4; Luke 10:19)!
It is like a birthright. Because of our position in Christ, certain blessings and privileges become ours by right. In this sense, they are 'positional'—because of our position in Christ, nothing else.
And the wonder of it all is that these are not blessings of the ordinary sort but blessings that are the essence of what Christ is in heaven! What is more, they are secured and guaranteed for us by God.
What are these positional blessings and how might we appropriate them?
They include:
1)      Positional justification: This is justification secured on account of our faith in Christ alone, and it pronounces us acquitted and discharged at a stroke, overturning our guilt. There has been an appeal to a higher court; it is the court of justification through faith in the blood of Jesus!
Because all have sinned and fallen short of the glory (Greek 'praise') of God, all stand condemned as sinners before God's righteous law which is ever ready to exact the death penalty it imposes for sin (Rom. 3:23, 6:23). However, on believing in Christ and His sacrificial death on our behalf, God freely justifies us (i.e. declares us righteous) "by His grace through the redemption that is in Christ Jesus" (Rom. 3:24-25).
"Redemption" is the key word. Christ 'buys us back' from enslavement to sin and its penalty of death with His blood. And because this ransom is acceptable to God—that Christ has died in our place and that all the requirements necessary for God to righteously grant us forgiveness has been met in His death—we are freely justified, not because of any good thing we have done but out of His mercy (Rom. 5:8; Titus 3:5).
2)      Positional righteousness: This is closely allied to positional justification. With our acquittal following Christ's payment of the ransom, God declares us righteous. As our sins were transferred to Him for the suffering of the sentence of death issued against us (Isa. 53:6, 12; 1 Pet 2:24, Heb. 2:9; Col. 2:13-14), so His righteousness has been transferred to us so we might no longer suffer the sentence of death but live (2 Cor. 5:21; Rom. 3:22, 4:11, 5:17-19, 21).
3)      Positional Victory: On the cross of Calvary, Christ won a decisive victory over the devil and his demons, "openly triumphing over them" (Col. 2:15). The gates of hell so shook that "the graves were opened; and many bodies of the saints which slept arose, And came out of the graves after His resurrection, and went unto the holy city, and appeared unto many" (Matt. 27:52-53).
That victory belongs to us too: "We are more than conquerors through Him" (Rom. 8:37).
4)      Positional enthronement: Christ's victory led to His promotion in heaven. He has been given a name above all names and seated on the right hand of God with "angels and authorities and powers being made subject unto Him" (Php 2:9-11; 1 Pet. 3:22). Take note! All the angelic ranks are under Him—cherubims, seraphims and all! (see Eph. 3:10).
We are spiritually enthroned with Him now in heaven (Eph. 2:6)! And guess those who serve us? The very same angels under Christ (Heb. 1:13-14; Matt. 18:10; Ps 91:11)!
5)      Positional riches: The blessings of Christ in the "heavenly places" are ours too (Rev. 5:11-12; Eph. 1:3)
In 1 Cor. 3:21 a succinct declaration is made of this wonderful truth: "all things are yours." The apostle Paul wrote to encourage the Corinthian believers in their generous giving to God's saints:
"For ye know the grace of our Lord Jesus Christ, that, though He was rich, yet for your sakes He became poor, that ye through His poverty might be rich" (2 Cor. 8:9).
6)      Positional healing: At Calvary, Christ exchanged His disease-free body for our disease-racked body by the stripes He received in His body. Note the use of the past tense in 1 Pet. 2:24 which reports His finished work of healing on the tree:
"Who His own self bare our sins in His own body on the tree, that we, being dead to sins, should live unto righteousness: by whose stripes ye were healed."
In Christ, we are not supposed to be sick; we were healed!
7)      In Christ, we enjoy sublime peace which flows from the very throne of Glory in heaven. This peace is unlike any the world has ever known (John 14:27). It defies all human understanding as it guards our hearts and minds from troubles and worries that would ordinarily devastate the unbeliever. It rests in the assurance that the Lord is our Shepherd and we shall not lack (Php. 4:6-7; Ps 23:1; 1 Pet. 5:7).
And because He leads us in the paths of righteousness, we are shielded from many of the blows of life that come directly from transgression (Ps 23:3; Prov. 13:15; Ps 16:4; 1 Tim. 4:8).
Our Saviour worked for our peace. He suffered "the chastisement of our peace"—the punishment that brought us peace—at Calvary (Isa. 35:5). This peace involves the 'joy of salvation' felt in our inner self, the soul, as well as peace with God and eventually all creation (Gal. 5:22; Col. 1:20-22; 2 Cor. 5:19).
Christ is our peace. The apostle Paul, in writing of the peace Christ has occasioned between Jewish and Gentile believers and ultimately the reconciliation of both to
God, stated:
"For He is our peace, who hath made both one, and hath broken down the middle wall of partition between us,
"Having abolished in His flesh the enmity, even the law of commandments contained in ordinances; for to make in Himself of two one man, so making peace;
"And that He might reconcile both unto God in one body by the cross, having slain the enmity thereby" (Eph. 2:14-16).
The "middle wall of partition" (NIV "the dividing wall of hostility") is a metaphor for "the law of commandments contained in ordinances" which Christ abolished in His flesh by His death on the cross.
What "law of commandments" is the apostle referring to? Is it the moral law of God as many tend to interpret Ephesians 2:15? If so, scripture would have plunged itself into a serious self-contradiction! This is because scripture highlights the same moral law as written in the hearts of God's New Covenant people (Heb. 8:10), and Christ said He did not come to abolish it (Matt. 5:17).
In Romans chapter two, Paul describes the moral law as meant to be a light to the Gentiles, not to keep them away (vv 17-22; see also Deut. 4:5-8). So what law is the culprit here?
It is the law of carnal ordinances such as circumcision. This, along with the extra-biblical regulations/traditions of the Rabbis, which laid down strict rules for Gentile conversion, was what erected a wall of separation between Jew and Gentile.
And these rules of separation had a tangible symbol concretized in stone! There was indeed a wall of separation keeping Jew and Gentile apart in the Jerusalem Temple. Gentiles might only enter the outer court of the temple, called the court of the Gentiles. (See Rev. 11:2). If a Gentile went beyond it and entered the inner court, he was sure to suffer the punishment of death.
In Acts 21, we read that when some detractors of the apostle Paul among the Jews sought to expose him to public odium, they raised the false alarm that he had brought Gentiles into the temple to defile it, "Crying out, Men of Israel, help: This is the man, that teacheth all men every where against the people, and the law, and this place: and further brought Greeks also into the temple, and hath polluted this holy place. (For they had seen before with him in the city Trophimus an Ephesian, whom they [wrongly/maliciously] supposed that Paul had brought into the temple)" (vv 28-29).
The Jewish historian Josephus describes "the wall of partition" in his books The Antiquities of the Jews and The Wars of the Jews:
"Thus was the first enclosure. In the midst of which, and not far from it, was the second, to be gone up to by a few steps; this was encompassed by a stone wall for a partition, with an inscription, which forbade any foreigner to go in, under pain of death" (Antiquities 15.417).
"There was a partition made of stone all round, whose height was three cubits: its construction was very elegant; upon it stood pillars at equal distances from one another, declaring the law of purity, some in Greek, and some in Roman letters, that 'no foreigner should go within that sanctuary'" (The Wars of the Jews 5.194).
This was the stone wall of separation Christ tore down in figure, making the peace. In Christ, circumcision, once required for a person to be admitted into the congregation of the LORD (Ex. 12:48), is no longer required (1 Cor. 7:18-19; Gal. 5:6). Nor does the "traditions of the elders" apply (Matt. 15:1-9; Mark 7:1-13).
To those that are near (Jews) and far (Gentiles), He preaches peace to reconcile both with God (Eph. 2:17). The ultimate goal is to reconcile all things in Christ (Eph. 1:10; Rom. 8:21; Isa. 11:9).
But the peace starts now—within our hearts: "Let the peace of God rule in your hearts, to the which also ye are called in one body; and be ye thankful" (Col. 3:15).
Taking what is Ours!
As already explained, the blessings, as enumerated above, are 'positional', in relation to our lives as believers, because they were not attained through any effort on our part but solely because of our oneness with Christ. It's by right of association, so to speak!
But that is not the end of the story. Positional blessings are meant to be appropriated and entered into by the believer.
Take justification for example. The "redemption that is in Jesus" has a double-edged effect: it involves both payment of ransom (which buys us back from sin) and release to freedom!
The freedom is freedom from sin. Declared righteous through faith in the Messiah's blood (Rom. 3:25), we are no longer sinners but the people of God redeemed "from all iniquity" (Titus 2:14). We cannot go back to sin, our former slave master who enslaved us in the first place (Rom. 7:14; John 8:34). We must remain free—continue in our new-found freedom of righteousness: "You, my brothers, were called to be free. But do not use your freedom to indulge the sinful nature [which would violate God's moral law]; rather, serve one another in love. The entire law is summed up in a single command:
Love your neighbor as yourself" (Gal. 5:13-14 NIV).
To willfully go back to sin will actually be a reversal of our status as a freed slave of sin and therefore a reversal of our positional blessing of justification attained through faith in Christ (Rom. 6:1-2; 15; Heb. 10:26). That's why God says to us His New Covenant people, in whose hearts and minds He has written His law, that He will remember our sins and iniquities "no more". This is because by keeping His law, we will not be continuing in sin, for His seed remains in us. Meanwhile, our past record of sin has been wiped clean by the blood of Christ (Heb. 10:16-18; 1 John 3:9).
Justification by grace through faith, by which we are freely declared righteous, is sustained through a life of obedience, "For if we willfully sin after that we have received the knowledge of the truth, there remaineth no more sacrifice for sins" (Heb. 10:26).
This obedience, rooted in faith and the justification that comes from it, will be the evidence of our faith-based justification on the judgment day when the practical life we lived as believers is examined: "The doers of the law shall be justified" (Rom. 2:13, 16; 2 Cor. 5:10-11).
Positional righteousness is similarly vindicated through a life of obedience to God's law of righteousness (Ps 119:172; Rom. 7:12). Christ's righteousness has been transferred to us, and we live a practical life of righteousness as proof! Christ left us an example of righteousness that we should walk "even as He walked" (1 Pet. 2:21, 24, 4:1; 1 John 2:6; 1 Cor. 11:1).
One wonderful thing the death of Christ accomplished for us was to free us from the controlling power of sin in our flesh (which true to its nature persists in ever hardening rebellion against the moral demands of God's law – Rom. 7:5, 7-8, 10-11, 13) so that the righteous requirements of the law "might be fulfilled in us, who walk not after the flesh, but after the Spirit" (Rom. 8:3-4). Yes, by His atonement for us, Christ "condemned sin" (i.e. its power) in our flesh as believers, and by so doing destroyed the sinful works of the devil at work in our body (1 John 3:8).
Meanwhile, His Spirit provides enduring enablement to fulfill the righteousness of the law (Rom.8:8, 10). The law of God is spiritual and can only be kept through the power of the Holy Spirit (Rom. 7:14, 8:2 and 7).
The victory Christ won over Satan and his demonic powers is ours, and we must appropriate it—make it our very own—by being strong in the Lord and in faith (Eph. 6:10; 1 Pet. 5:9). On the cross of Calvary, Christ not only defeated the forces of darkness in their very stronghold of Tartarus (Hades) but also paraded and openly triumphed over them as His prisoners of war (POWs) (Col. 2:15; Eph. 4:9). He returned with a trophy—"the keys of Hades and of death" snatched from the devil (Rev. 1:18; Heb. 2:14-15). After His resurrection, He proclaimed triumphantly, "All power is given unto Me in heaven and in earth" (Matt. 28:18).
As believers, we must stand on the great Calvary victory of Christ and resist the devil. Aware of our victorious position in Christ, he will flee away (Jam. 4:7; 1 Pet. 5:8-9). The victorious Christ in us will show through, and the devil will recognize us for the conquerors we are (as indeed Rom. 8:37 says we are). In Ephesus, the evil spirit confessed, rebuking the false exorcists: "Jesus I know, and Paul [in whom Jesus lives] I know; but who are ye?" (Acts 19:15).
The demonic principalities and powers we fight are the very ones Christ conquered. When we put on "the whole armour of God" in our fight with them, we ensure that these vanquished foes are kept in permanent defeat (Eph. 6:11-13). The victory, of course, has its antecedents in the Calvary victory of the Blood which we will have enforced (Rev. 12:11).
And enforcement takes effort! That's why 2 Tim. 2:1 urges us to be "strong in the grace that is in Christ Jesus". That is, we must devotedly obey the instructions of the Lord Jesus Christ so that we will abound in His grace! These spiritual instructions include prayer which must be done "without ceasing" in order not to put out the Spirit's fire (1 Thess. 5:17, 19). Another is fasting (read Matt. Matt. 17:21; Mark 2:18-20).
When we carry out the spiritual instructions of "the Captain of our salvation" (Heb.2:10), we "stir up [or stoke up] the gift [i.e. the anointing, healing and miracle power, etc] of God" in us (2 Tim. 1:6; also 1 Tim. 4:14).
Because Christ won the victory, and so He is the Originator of it, it's in His Name, that is, it's by His AUTHORITY and instructions alone, that we triumph over the devil. In Luke 10:19, He makes it clear He is the One giving us the authority to trample over "all the power of the enemy":
"Behold, I give unto you power to tread on serpents and scorpions, and over all the power of the enemy: and nothing shall by any means hurt you."
The order has come from our Commander-in- Chief, and we must go trampling over the devil in His mighty Name—the same Authority He used to bring demons to their knees (Mark 1:23-27; Luke 4:36).
Earlier, we learnt that we are spiritually enthroned with Christ in the heavenly places. While a present spiritual reality, this 'positional' enthronement with Christ is actualized through a life of overcoming. We must continually triumph over sin, and not allow sin "which doth so easily beset us" to hinder us from coming to a perfect obedience (Rev. 3:21; Heb. 12:1-2). In this regard, Christ's victorious life over sin is our example.
By virtue of our position in Christ, we are rolling in riches; in fact 'all things are ours'. But we must still ask to have them (John 14:14). That itself shows that we believe that the things we ask of are truly ours by right of our position and inheritance in Christ.
And so we should ask, seek and knock, and we will find, and the door of blessing will be opened to us.
"For every one that asketh receiveth; and he that seeketh findeth; and to him that knocketh it shall be opened.
"Or what man is there of you, whom if his son [and we share Sonship with Christ!] ask bread, will he give him a stone?
"Or if he ask a fish, will he give him a serpent"
"If ye then, being evil, know how to give good gifts unto your children, how much more shall your Father which is in heaven [where our riches are stashed] give good things to them that ask Him?" (Matt. 7:7-9).
We shouldn't despair when on first asking we get no answer. The command is to "ask, seek and knock". Because our riches are true and real, whoever asks receives, and seeks finds, and knocks is let in through the open door. (See Rev. 3:8).
With his knowledge of this secret, the apostle Paul wrote to the Philippians, who were noted for their charity:  "My God shall supply all your need[s] according to His riches in glory by Christ Jesus" (Php. 4:19).
Our health: As far as our position in Christ is concerned, we enjoy the sound health of His body which was rid of "the pains of death" at His resurrection (Acts 2:24). Now, when the aberrant happens and we fall short of His sound health, it behooves us to correct it by "the prayer of faith" (Jam. 5:14-15). He sent His Word and healed our diseases (Ps. 102:20; Matt. 8:16).
Sickness is not our fate! Sound health is, and we must enforce it by the prayer of faith.
The peace Christ gives us within, without and towards our God is appropriated through obedience to God's law of peace. "Great peace have they which love Thy law", the Psalmist wrote, "and nothing shall offend them [upset their peace] (Ps 119:165).
And the prophet Isaiah chimes in:
"O that thou hadst hearkened to My commandments! Then had thy peace been as a river, and thy righteousness as the waves of the sea.
"There is no peace, saith the LORD, unto the wicked" (Isa. 48:18, 22).
That is why Christ bore the punishment of sin that made it possible for us to have peace. Sin is not the way to peace (Rom. 3:17-18). When He took away our sins, He made it possible for us to heave peace which, if we continue in His law of peace, will stay with us forever (Ps 85:8).
There is a river of peace that flows ceaselessly from the throne of God and of the Lamb in the heavenly city of peace. May that pure river of peace flood our hearts and lives forever (Ps 46:4; Rev. 22:1-6)!
Christ's "it is finished" declaration at Calvary certainly begins a "good work"—a beginning point of completion—that continues to perfection as with commitment and faith He works in us to bring it to a full realization (John 19:30; Php 1:6, 2:12-13).
All that we have to be, Christ has already accomplished for us! The work of salvation was finished from the foundation of the world (Heb. 4:3):
"Forasmuch as ye know that ye were not redeemed with corruptible things, as silver and gold, from your vain conversation received by tradition from your fathers;
"But with the precious blood of Christ, as of a lamb without blemish and without spot:
"Who verily was foreordained before the foundation of the world, but was manifest in these last times for you" (1 Pet. 1;18-20).
By God's grand design, Christ has become for us "wisdom, and righteousness, and sanctification, and redemption. That, according as it was written, he that glorieth, let him glory in the Lord" (1 Cor. 1:30-31).
Earlier we noted that as Christ is in heaven, so are we in this world (1 John 4:17). Heb. 7:26 describes Christ's standing before God: "For such an High Priest became us, Who is holy, harmless, undefiled, separate from sinners, and made higher than the heavens". Christ, our High Priest, exemplifies what we should be in the world: "That ye may be blameless and harmless, the sons of God, without rebuke, in the midst of a crooked and perverse nation, among whom ye shine as lights in the world" (Php. 2:15).
Christ is our model of holiness, righteousness, endurance and divine power. As in the ancient Greek race, He's our inspiration and the Judge to whom we look, our eyes fixed on the prize in His hand, as we race towards the goal. While we run, it's necessary that we lay aside every weight of sin, for so He did perfectly and the ancient runners symbolized in putting off all unnecessary clothing weighing them down (Heb. 12:1-3). Christ was born the Holy One (Luke 1:35; Acts 3:14), and He maintained His holiness, never once committing sin.
What is the lesson for us? After we are justified by His grace through our faith, we are born again by the Spirit of Christ to a new life of righteousness and true holiness (John 1:12-13, 3:3,6; Eph.4:22-24). In a situation similar to Christ's, we become 'holy ones' (saints) which holiness we must preserve through righteous living by His grace.
And the good news is that Christ is able to keep us from falling! Yes, from falling! If we follow and obey Him, He will keep us from falling from His accomplished work of justification, holiness and salvation ordained in Him before the foundation of the world—"that we should be holy and without blame before Him in love" (Jude 1:24; Eph. 1:4).
For this very purpose were we set apart by the Spirit of God before we ever existed, in the beginning known only to God! And we are to fulfill the Spirit's purpose for our calling and election through belief in and obedience to the truth (2 Thess. 2:13; 1 Pet. 1:2; 2 Tim. 1:9).
Christ's finished work is the Life we are supposed to live by His grace. Thanks be to the Father for Christ, His indescribable Gift (2 Cor. 9:15)!
Our inheritance in Christ is real. Though physically intangible, the blessings of our inheritance are spiritual realities of eternal value—holiness, righteousness, eternal life, endless peace, joy, heavenly glory and treasures that never fade or spoil.
And we claim them right here by appropriating what Jesus has already accomplished for us through obedience and faith. Sure, "we press [run] towards the mark [goal] for the prize of the high calling of God in Christ Jesus" (Php. 3:14), moving from the positional, to the practical, and to the experiential by His own very grace, till the prize is obtained!
To what end? So "That Christ may dwell in your hearts by faith; that ye being rooted and grounded in love, May be able to comprehend with all saints what is the breadth, and length, and depth, and height; And to know the love of Christ, which passeth knowledge, that ye might be filled with all the FULNESS OF GOD" (Eph. 3:17-19). Amen!