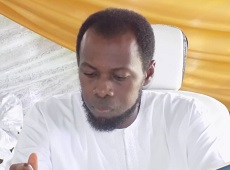 By :Elder Enoch Ofori Jnr.
Called to Walk With the Light in the Light
The Hebrew word "halak" primarily means to "go" or "walk". But it also denotes one's behavior – the way a person 'walks in life"
The righteous are said to walk uprightly in the integrity of their heart (Ps. 15:2; Isa. 33:15-17, Ps. 1:1-2). By contrast, the wicked are said to "walk after the imagination of their evil heart" Jer. 3:17, 7:24).
As believers, we have been called to walk with God, unlike in time past when we "walked according to the course of this world, according to the prince of the power of the air, the spirit that now worketh in the children of disobedience" (Eph. 2:2).
The scriptures speak of Enoch, "the seventh from Adam", thus: "And Enoch walked with God and he was not, for God took him" (Gen. 5:24).
God desires a relationship with man. But for that relationship to be meaningful, we are obliged to live a righteous, holy life.  John 1:5-7 proclaims:
"This then is the message which we have heard of Him, and declare unto you that God is light, and in Him is no darkness at all. If we say that we have fellowship with Him, and walk in darkness, we lie, and do not speak the truth. But if we walk in the light, as He is in the light, we have fellowship one with another [i.e. with Him and other faithful believers], and the blood of Jesus Christ His Son cleanseth us from all sin" (John 1:5-7).
This God of light and truth is the One of whom David said; "Thou desireth truth in the inward parts" (Ps. 51:6).
In His light of righteousness shall we see light (God): "With Thee is the fountain of life, in Thy light shall we see light" (Ps. 36:9).
He clothes Himself with light, and the light dwelleth with Him" (Ps. 104:2, Dan. 2:22). In Him is no darkness at all! His eyes are too pure to look on evil "and canst not look on iniquity" (Hob. 1:13).
Yet He desires a relationship with sinful mankind – and He sets His condition: We must walk (live) in the light as He is in the light! In other words, we must be perfect as He is (Matt. 5:48).
That is the goal of the gospel – to "present every man perfect in Christ" (Col. 1:28). We have been chosen in Him before the foundation of the world that "we should be holy and without blame before Him in love" (Eph. 1:4).
The High and Holy One seeks a Second Home
The High and Lofty One, Who "inhabiteth eternity, Whose Name is Holy" seeks to have a personal relationship with each one of us, but with him "that is of a contrite and humble spirit… who trembleth at My word" (lsa. 57:15. 66:1 -2).
The God Who dwells in "the high and holy place", Whose name is Holy and Whom the heavens cannot contain, seeks a second permanent home with us–but only if holiness pervades our hearts and lives as it is in heaven (Heb. 12:14; Deut. 10:12-16; 2 Chron. 6:18).
This holiness comes from our 'trembling' obedience to God's word out of a spirit of humility and contrition. Remember, the Word of God cleanses and sanctifies, making us pure from sin and, indeed, "all filthiness of the flesh and spirit" through our obedience to it (John 15:3, 17:17; 2 Cor. 7:1; also Ps. 119:9,11 and Num. 15:40).
The apostle Peter wrote:
"Seeing ye have purified your souls in obeying the truth through the Spirit unto unfeigned love of the brethren, see that ye love one another with a pure heart fervently. Being born again, not of corruptible seed, but of incorruptible, by the word of God, which liveth and abideth for ever" (1Pet. 1:22-23).
A fine illustration of how every dwelling place of God, whether permanent or temporary, should be holy is seen in the instruction God gave to Moses to make the people and the area around mount Sinai holy before He descended to proclaim the law.
This was the instruction God gave to Moses:
"And the LORD said unto Moses, Go unto the people, and sanctify them today and tomorrow, and let them wash their clothes,
"And be ready against the third day: for the third day the LORD will come down in the sight of all the people upon mount Sinai.
"And thou shall set bounds unto the people round about, saying, take heed to yourselves, that ye go not up into the mount, or touch the border of it: whoever toucheth the mount shall be surely put to death.
"There shall not an hand touch it. but he shall surely be stoned, or shot through; whether it be beast or man, it shall not live: when the trumpet soundeth long, they shall come up to the mount.
"And Moses went down from the mount unto the people, and sanctified the people; and they washed their clothes.
"And he said unto the people. Be ready against the third day: come not at your wives.
"And it came to pass on the third day in the morning, that there were thunders and lightings, and a thick cloud upon the mount, and the voice of the trumpet exceeding loud; so that all the people that was in the camp trembled.
"And Moses brought forth the people out of the camp to meet with God; and they stood at the nether part of the mount.
"And Mount Sinai was altogether on a smoke, because the LORD descended upon it in fire: and the smoke thereof ascended as the smoke of a furnace, and the whole mount quaked greatly" (Ex. 19:10-18).
Earlier when the LORD called Moses out of the 'burning bush', He said to him:
"Draw not near hither: put off they shoes from off thy feet, for the place whereon thou standest is holy ground" (Ex. 3:5).
On that notable day of Pentecost at Sinai, heaven came down to earth, and the place had to be holy.
Our hearts and bodies, which are God's dwelling place in the New Testament, cannot be anything less. Our bodies must be holy and our hearts pure. Christ, our Saviour, did not mince words when He said, "Blessed are the pure in heart: for they shall sec God" (Matt. 3:8). The apostle Paul questioned the Corinthian Christians:
"Know ye not that ye are the temple of God, and that the Spirit of God dwelleth in you? If any man defile the temple of God, him shall God destroy; for the temple of God is holy, which temple ye are" (1 Cor. 3:16-17).
The condition has been set: God will live in us if we are holy! The Lord Jesus assures us in John 14:23: "If a man loves Me, he will keep My words [which sanctify a man] and My Father will love him, and We will come unto him, and make Our abode with him".
In the encounter with Moses, God was a blazing Fire–just as He was on the day He made a covenant with Abraham in Gen, 15 (read vv 17-18). In our hearts too, He is the same. He indwells us as the God of Fire! Hence the scriptures testify, "He makes His ministers a flaming fire" (PS. 104:4; Heb. 1:7. See also 1 Thess 5:19 and Jer. 23:29).
Yes, the eternal "Consuming Fire" (Heb. 12:29), Who fills all space, desires to dwell in us, walk and 'tabernacle' among us, but only on His terms: if we do not touch the unclean thing (Lev. 26:11-12; 2Cor. 6:16-18).
His Law converts our Soul–working with our Faith
God wants us to walk with Him in the perfection of His way. He wants us to reflect His perfect nature, to be "holy as He is holy" (1 Pet. 1:14-16).
Yet how do we learn the ways of the perfect God except through His "holy just and good law"?
The Psalmist pleads in Ps. 119:133: "Order my steps in Thy word: and let not any iniquity have dominion over me".
As He renewed His covenant with Abraham, with circumcision as the covenant sign, Yahweh said to him: "I am El Shaddai; walk before Me, and be thou perfect" (Gen. 17:1).
We know from the N.T. scriptures that circumcision signifies sincere obedience to God's commandments from the heart (Rom. 2:25-29; 1 Cor. 7:19). Abraham was therefore being called upon to walk (live) in obedience to God's perfect law so that he might please God and be blameless before Him. (See Gen. 26:5).
Amos 3:3 asks: "How can two walk together except they agree?" So we may well ask: 'How can a holy God walk with an unholy, filthy person who refuses to heed His call to repentance?'
Christ saves by His grace through our faith so that we might do the good works of righteousness which God fore-ordained that "we should walk in them" (Eph. 2:8-10; also Titus 2:11-12, 14).
Heb. 11:5 describes Enoch's righteous walk with God as a walk of faith in an age filled with a strong temptation to do evil, an age of ungodly and blasphemous men:
"By faith Enoch was translated [taken up] that he should not see death; and was not found, because God had translated him: for before his translation he had this testimony, that he pleased God."
In his testimonial about Enoch, Jude wrote:
"And Enoch also, the seventh from Adam, prophesied of these, saying, Behold, the Lord cometh with ten thousands of His Saints, To execute judgment upon all, and to convince [i.e. convict] all that are ungodly among them of all their ungodly deeds which they have ungodly committed, and of all their hard speeches which ungodly sinners have spoken against him" (Jude 1:14-15).
It was by faith that Enoch walked with God in a society of indescribable wickedness and was taken up! In the face of an almost irresistible temptation to fall in with the ungodly culture around him, Enoch steadily walked with God and he pleased him. The driving force was faith, as eloquently stated in Hebrews 11:6:
"But without faith it is impossible to please Him (God): for he that cometh to God must believe that He is, and that He is a rewarder of them [such as Enoch] that diligently seek [or walk with] Him."
The time of Enoch has returned. In an age where immorality abounds and worldly pleasure is all-pervasive, it takes faith to walk with God and please Him; in an age where atheism and agnosticism have become the prevailing philosophy in the so-called advanced countries; it takes faith to even believe in the existence of God.
Yes, it takes faith – an iron-clad faith – to love God and keep His commandments in these "perilous times" of the end characterized by selfishness, covetousness, snobbery, impiety, disrespect for parents, ingratitude, treachery, unkindness, recklessness and a false piety that denies the life-transforming power of Christ to turn sinners into saints (2 Tim. 3:1- 5)!
Truly, it takes faith in God and His way to be godly in "this present evil world" (Gal. 1:4).
In every age and society where evil has taken hold, those who love God have stood by their faith. (Read Hab. 2:4 and Heb. 10:38-39). Noah, "the preacher of righteousness" (2 Pet, 2:5), maintained his integrity by faith in a time of unprecedented evil in which "God saw that the wickedness of man was great in the earth, and that every imagination of the thoughts of his heart was only evil continually.  "And it repenteth the LORD that He had made man on the earth, and it grieved Him at His heart..
"And the LORD said, I will destroy man whom I have created from the face of the earth, both man, and beast, and the creeping thing, and the fowls of the air; for it repenteth Me that I have made them.
"But Noah found grace in the eyes of the LORD.
"These are the generations of Noah: Noah was a just man and perfect in his generations, and Noah walked with God" (Gen. 6:5-9).
Again, it was a walk of faith–enabled by God's grace–in a world community in which "all flesh had corrupted its way upon the earth" (Gen. 6:12, also 7:1). Faith alone made the difference for Noah, and he "became heir of the righteousness which is by faith" (Heb. 11:7).
So, you see, the notion that faith nullifies obedience to God's commandments is pathetically wrong! The opposite, in fact, is the case: Faith drives us to please God which arises out of obedience to His will (see John 8:31).
Faith, then, is the 'walking stick' of the righteous, as 2 Cor. 5:7 so succinctly and accurately put it: "We walk by faith, not by sight." That is to say, we walk (behave, conduct our lives) not according to what we see the unsaved world do- their ungodly lifestyles, corrupt practices, their rank wickedness and sexual perversion. We walk in righteousness by faith!
And when faith has done its perfect work and we have pleased God through our diligent walk in His way, we will receive the same reward Enoch and Noah received: we will be taken up and rescued from destruction (2 Pet 3:13; I Thess. 4:16-17; 2 Pet.2:9).
In this closing age in which the evil days of Enoch and Noah have come back, all believers should endeavor to practice "the obedience that comes from faith" (Rom. 1:5 NIV). Faith in this sense must be understood as, first, faith in the Messiah's finished work of redemption and then faith to walk His righteous walk (Rom, 3:24-25, 31).
Faith is everything in the Christian walk – from conversion to righteous living (Rom 1:16-17).  Not surprisingly, Jesus wondered in Luke 18:8, "…when the Son of Man cometh [the second time], shall He find faith on the earth?" That is, faith to believe God to fulfill our requests and faith to maintain right standing with Him. (Sec Heb. 11:33)
True faith always produces 'good works' or righteousness (Jam. 2:20-24). Abraham, the man of faith, didn't just have to believe (Gen. 15:6); he had to walk before God (i.e. live responsibly and uprightly before Him) and be perfect!
The Law of the LORD is perfect (complete, faultless), and it converts the soul to be in tune with God's righteous character. It makes wise the simple, enabling him to walk with the only wise God (See 1 Tim. 1:17).
"The statutes of the LORD are right, rejoicing the heart: the commandment of the LORD is pure, enlightening the eyes.
"The fear of (he LORD is clean, enduring forever: the judgments of the LORD are true and righteous altogether.
"More to be desired are they than gold, yea, than much fine gold: sweeter than honey and the honeycomb."
By His commandments are His people warned out of the corrupt way for the reward of blessing (Ps. 19:7-11. Jam. 1:25).
If Christ would walk with us through this life and in the eternal world to come, we ought to walk as He walked (1 John 2:6). In His earthly life, He was blameless in all aspects of God's law as He always did those things that pleased the Father (John 8:29,46; 1 Pet. 2:22).
He put it to those who accused Him of Sabbath breaking that if it were not tor their ignorance of true Sabbath observance, "ye would not have condemned the guiltless" [i.e. He and His disciples being innocent of the charge of Sabbath violation] (Matt. 12:1-7).
Christ was tempted "in all points" yet without sin (Heb. 4:15). And His seed (Word) remains in us to ensure that we become like Him (I John 3:9, 5:18).
He washes us in His own blood (Rev. 1:5), cleanses us with His spiritual water of purification and puts His laws in our hearts for this very purpose:
"Then will I sprinkle clean water upon you, and ye shall be clean; from all your filthiness, and from all your idols, will I cleanse you.
"A new heart also will I give you, and a new Spirit will I put within you: and I will take away the stony heart out of your flesh, and I will give you an heart of flesh.
"And I will put my Spirit within you, and cause you to walk in My statutes, and ye shall keep My judgments, and do them" (Ezek. 36:25-27).
Christ effects positive, righteous change in our lives so that, in the alignment of our character to His, He might be able to live with us. Paul refers to the past life of the believers in Corinth – a city notorious for immorality, even hosting the "sacred (?) prostitutes" of the goddess Aphrodite – and the positive change Christ had made in their lives:
"And such [fornicators, idolaters, adulterers, homosexuals, thieves, covetous, extortioners, etc] were some of you but ye are washed, but ye are sanctified, but ye are justified in the name of the Lord Jesus, and by the Spirit of our God" (1 Cor. 6:11).
In addition to His dwelling place on high, God loves us enough to make His abode with us. To reciprocate His love for us, we must keep His commandments (John 14:15.1 John 5:3). Since Christ was manifested to take away our sins, whoever sins does not know nor abide in Him:
"Whoever committeth sin transgresseth also the law: for sin is the transgression of the law. And ye know that He was manifested to take away our sins; and in Him is no sin. Whosoever abideth in Him sinneth not: whosoever sinneth hath not seen Him; neither known Him" (1 John 3:4-6).
When we walk before Him in the steps established by His perfect law, we do what He would do if He lived with us physically and do not do what He wouldn't do. That's why I John 3:7 takes up from where verse 6 left off: "….he that doeth righteousness is righteous, even as He is righteous."
If Christ were physically here with us. He wouldn't steal, worship false gods, nor covet other people's things. And He lives with us in another form–within us! He promised the disciples just before His death, resurrection and ascension: "I go away, and come again unto you" (John 14:28, also v 18).
"Walk the ever shining Path with Christ "from Glory to Glory"
To keep His commandments is to live above the ordinary life of sin, the life that has lost its way from the tree of life (Gen. 3:24)! 'Sin' in Greek means to "miss the mark"; to transgress or go beyond accepted boundaries.
When we keep His commandments, we don't wander out of the way. His law becomes a lamp to our feet in the path of the just "which shines more and more unto the perfect day" of salvation (Prov. 6:23; Ps 119:105; Prov. 4:18; Rev. 22:14)
It is at this stage that we move from level one of conformity to Christ's image (likeness) to level two. (Read Rom. 8:29). We graduate from conformity to Christ's likeness morally/character-wise to one in which we share in His glorious body when we are changed at His coming. We read in 1 John 3:1-2:
"Behold, what manner of love the Father hath bestowed upon us, that we should be called the sons of God: therefore the world knoweth us not, because it knew Him not.
"Beloved, now are we the sons of God, and it doth not yet appear what we shall be: but we know that, when He shall appear, we shall be like Him; for we shall see Him as He is." (Compare Php. 3:21).
Glorious! Awesome!!  But the all-important change into His character would have first occurred. Hence verse 3 exhorts: "And every man that hath this hope in Him [of transformation into His body] purifieth himself [now], even as He is pure" (see I John 2:28-29; 4:17).
Let us, therefore, grow in grace and in the knowledge of our Lord and Savior Jesus Christ so that we might be changed into His image "from glory to glory" (2 Pet 3:18. 2 Cor. 3:18). It is a graduated process of knowing, loving and resembling Christ.  The ultimate goal is to share "the same image" with Christ (1 Cor. 15:49).
In the 99th year of Abraham, the LORD appeared unto him saying, "Walk before Me and be thou perfect" (Gen. 17:1). Abraham had known the Lord and believed Him, and now, on the threshold of the fulfillment of His promise to give him Isaac, the LORD told him it was time for action: follow Me and live My life of righteousness.
The LORD makes the same call to us on the threshold of His promise to give us eternal life: keep My commandments to show that you know and love Me (1 John 2:3-4).
As the children of Abraham, we must walk before the Lord as Jacob testified of his father Isaac: He walked before God as His father Abraham did (Gen. 48:15). Our God rewards those who diligently seek Him, walking in His Name and law of light just as pagans walk in the name of their vain gods (Isa. 2:3-5; Micah 4:5).
The Children of Light on the Highway of Holiness
Now that we are done with darkness, our new life must reflect the light we are: We must "walk as children of light" – the children of "the Father of lights" (Eph. 5:8; Php. 2:15; Jam. l: l7; John. 12:36).
In the light of His truth in which we walk with Him, Christ is able to keep us from falling into sin so as to present us "faultless before the presence of His glory with exceeding joy" (Jude. 1:24).
Ultimately, those who make the holy city of heaven their eternal home will have to be a holy people of God (Rev. 21:27; 22:15. 14:4). But before then, we need to create a little heaven of holiness in our hearts and lives. This is doubly important as even now our spirits go on a regular spiritual pilgrimage to the heavenly mount Zion, "unto the city of the living God, the heavenly Jerusalem, and to an innumerable company of angels. To the general assembly and church of the firstborn, which are written in heaven, and to God the Judge of all, and to the spirits of just men made perfect. And to Jesus the mediator of the new covenant, and to the blood of sprinkling that speaketh better things than that of Abel" (Heb. 12:22-24).
In the heavenly assembly of the Holy God and of His holy angels, we will not be welcome unless our spirits are pure and holy. In 2 Cor. 12, the apostle Paul tells of his spiritual pilgrimage to the "third heaven" and "into paradise" where he "heard unspeakable words" which he was not permitted to tell others (w 1-4, 7). And in Rev. 4:2, the apostle John reports: '"And immediately I was in the Spirit: and, behold, a throne was set in heaven, and One sat on the throne."
There's a "way of holiness" to heaven, a "highway" on which our spirits travel to appear before the presence of God. If we are unclean in spirit, soul and body, we "shall not pass over it" (Isa.35:8; 2 Cor.7: l; 1 Thess. 5:23). Only those redeemed by the Blood (Heb. 10:19) and purified by the Word shall walk on it. These shall "come to Zion with songs and everlasting joy upon their heads they shall obtain joy and gladness, and sorrow and sighing shall flee away" (Isa. 35:9-10).
The highway of holiness is travelled by God's saints. That is, the sanctified ones of God who keep His commandments and by so doing have purified themselves (THE WHOLE MAN) from any act or thing that defileth (Rev. 12:17, 14: 12).
By keeping His holy commandments, we ensure that, once washed in His holy blood, we remain pure for Him – unlike the proverbial sow gone back to "her wallowing in the mire" after being washed (2 Pet. 2:20-22; Heb. 10:26-29. Compare Rev. 3:4 and Rev. 7:14).
When we walk with Him in the light, our path certainly shines more and more "till the full light of day" (NIV) – yes, till the FULL GLORY of Christ, "the Bright and Morning star" (Prov. 4:18. Rev. 22:16). HalleluYAH!
May the God of all grace empower us all to walk before Him and be perfect as He is! Amen!
References:
1. W.E. Vine, Merill F. Unger, William White; Jr. Vine's Complete Expository Dictionary of Old and New Testament Words (P. 279).
2. T. Alton Bryant The New Compact Bible Dictionary (P. 602)
3. James Strong Strong's Exhaustive Concordance section Hebrew and Chaldee Dictionary (P. 33 entry 1980)